CALL FOR PAPERS
Organised by Konfuzius-Institut Frankfurt
TIME: November 18-19, 2016
PLACE: Goethe University, Frankfurt a. M., Germany
LANGUAGES: ENGLISH, CHINESE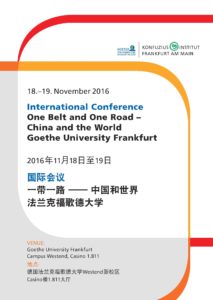 China's "One Belt, One Road" (OBOR) initiative was launched in 2013 with the stated aim to connect major Eurasian economies through infrastructure, trade, and investment. Resorting to the memory of the historical Silk Road, which connected the Middle Kingdom to the outside world culturally, economically, and politically, OBOR reflects the strategic ambition of a new generation of Chinese leaders. The designers of OBOR wish to enhance the orderly free-flow of economic factors and the efficient allocation of resources by expanding business cooperation in the vast Eurasian continent. It would further promote "people to people bonds" involving, for instance, media cooperation, volunteer services, and cultural, academic, and personnel exchanges. Since its launch, however, it has also received criticism, primarily from Western governments and media already anxious about the rise of China.
This conference organized by Konfuzius-Institut Frankfurt aims to encourage academic scholars, along with consultants, entrepreneurs and policy makers, from China, Germany, and other EU or non-EU countries to exchange ideas on OBOR, to fully explore its ramifications, to examine the texts, subtexts, and contexts of its controversy, and to discuss the opportunities
We are looking forward to welcoming you in Frankfurt!